Prague Graphic Arts Experts' Day June 29 2017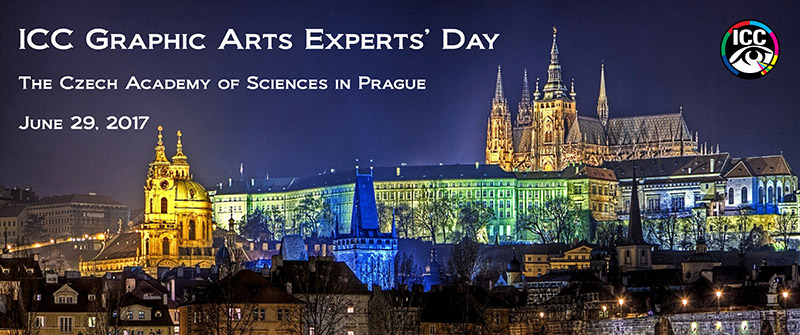 8.30am - 4:30pm
Venue
Czech Academy of Sciences
Národní 3 117 20
Prague 1, Czech
The ICC is holding a graphic arts Color Experts' Day in Prague in June 2017. The focus of the one day event will be on current issues in colour management that concern the printing, packaging and publishing industries in the Eastern Europe region.
Provisional program
Welcome note
Introduction to ICC
William Li, Kodak Inc. (ICC co-chair)
How to work with PDF/X files
Bernd Rückert, CGS
Using standard printing conditions and characterization data
Craig Revie, FFEI Ltd
How to work with the Perceptual Reference Medium Gamut
Phil Green, NTNU in Gjovik
Coffee
How to do soft proofing
Chris Bai, BenQ
Colorimetric and spectral matching
Marc Mahy, Agfa Graphics
Spectral data communication from prepress to press
Veronika Lovell, Sun Chemical
How to use the new ISO 13655 measurement conditions M0-M3
Ray Cheydleur, X-Rite Inc.
Lunch
What is the ICC Profile Registry
Lenka Otahalova
What problems can be solved with iccMAX
Max Derhak, Onyx Graphics (ICC Co-chair)
Multi-colour (CMYK++) printing and proofing
Juergen Seitz, GMG
Digital print: matching offset vs pure digital
William Li, Kodak Inc.
Multiangle measurement and BRDF
James Vogh, X-Rite Inc.
Coffee
Multi-angle measurement
Aditya Sole, NTNU in Gjovik
Multi-angle measurement
Ondrej Panak, University of Pardubice
Consistent colour appearance
Greg High, NTNU in Gjovik
Evening reception
The event is free to attend, although places are limited and advance registration is required. For more information please contact Phil Green, ICC Technical Secretary.